Transfer Under Rule 38 Against Vacancies Reported for Filling up Through Direct Recruitment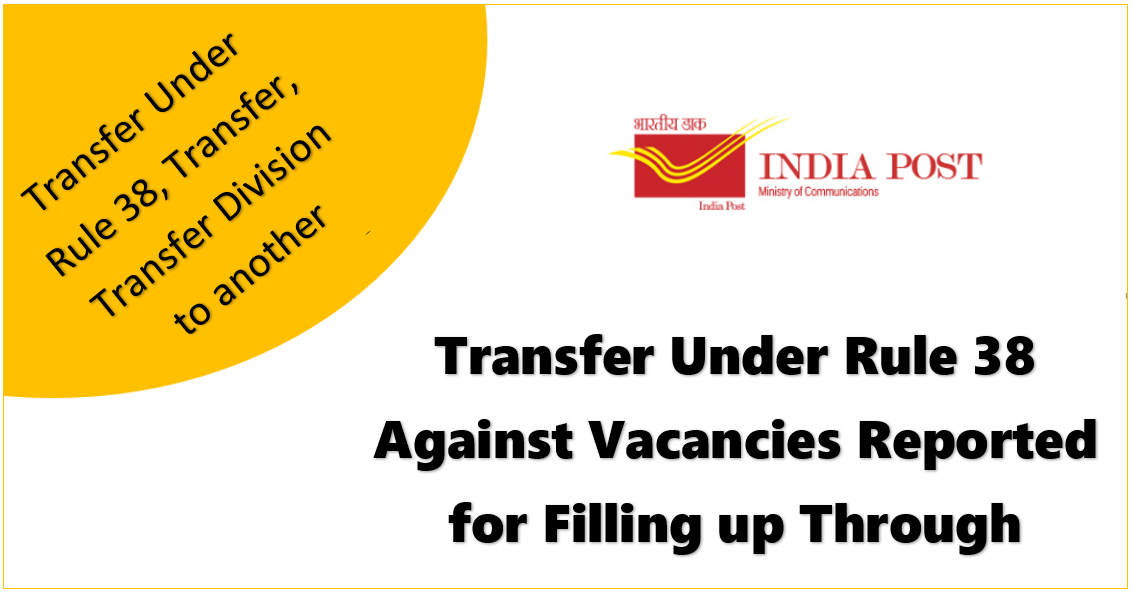 Considering transfer under Rule 38 against vacancies reported for filling up through Direct recruitment examination conducted by Staff Selection Commission
No. 12-l/20l9-SPN-II (Pt.)
Government of India
Ministry of Communications
Department of Posts
(Personnel Division)
Dak Bhawan, Sansad Marg
New Delhi – 110 001
Dated: 3rd June, 2019
To
All Chief Postmasters General – Postmasters General Chief General Manager, BD Directorate – Parcel Directorate – PLI Directorate Director, RAKNPA – GM, CEPT – Directors of all PTCs Addl. Director General, Army Postal Service, New Delhi Ali General Managers (Finance) – Directors Postal Accounts – DDAP
Subject: – Considering transfer under Rule 38 against vacancies reported for filling up through Direct recruitment examination conducted by Staff Selection Commission
Expected DA from July 2019: DA 4% Confirm…5% Possible! – Click for more details
Sir/Madam.
I am directed to refer to Directorate's communication of even number dated 12.04.2019 on the above mentioned subject vide which all Postal Circles were requested to complete the one time exercise by 15.05.2019. It has now been decided to extend the timeline till 24.06.2019.
2. References are being received to clarify if the provisions of aforesaid letter dated 12.04.2019 are applicable to Inner circle transfer only and not for intra-circle (i.e. from one Division to another Division within same Circle). It is clarified that communication dated 12.04.2019 is equally applicable in cases of intra-circle transfers.
3. With regards to Point (iv) of Para 4 of letter dated 12.04.2019, it is further clarified that where recruitment is being done through SSC (i.e Direct recruitment of Inspector Posts / PA/SA / Stenographer Grade-II) change in vacancy position on account of transfer shall be communicated to the undersigned.
Yours faithfully,
sd/-
(Muthu Raman c)
Assistant Director General (SPN)